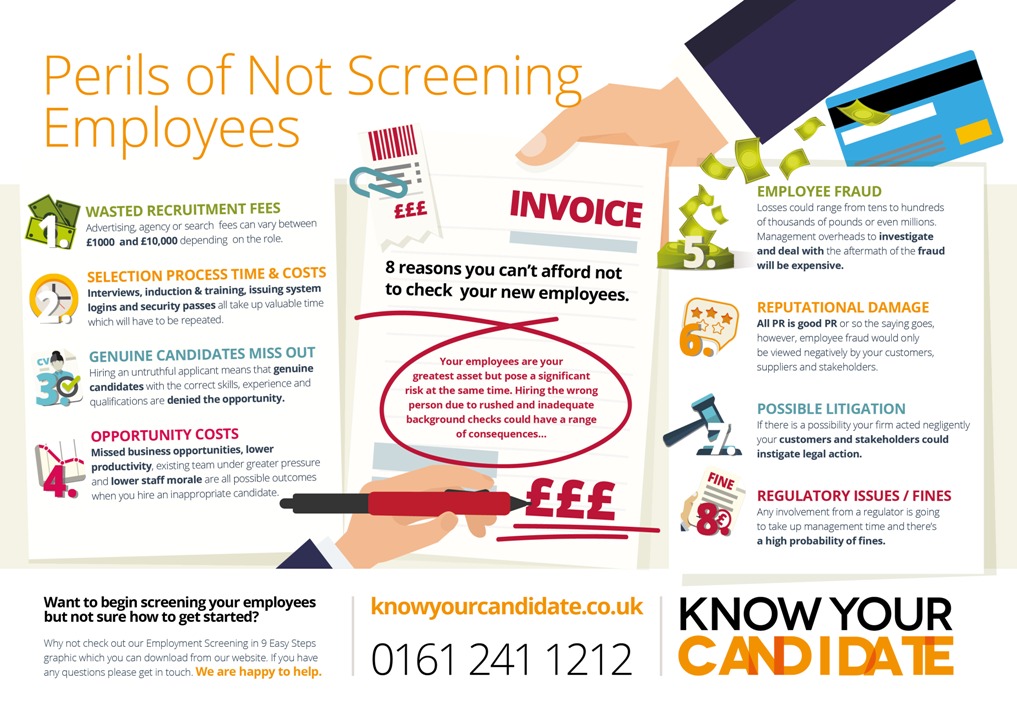 Know Your Candidate Launches Infographics
March 28, 2017
Know Your Candidate has launched a series of 3 infographics as part of its continued quest to make employment screening easier to understand. The first infographics to be launched are:
1. Perils of Not Screening Employees – provides 8 reasons you can't afford not to screen your employees ranging from those where the new employee is simply a bad fit / does not have the correct experience through to more serious implications when an individual has malicious intent.
2. Employment Screening in 9 Easy Steps – this infographic lists the 9 key things you need to consider when implementing an employment screening project. Following the tips in the infographic will ensure your process is compliant, delivers effective results and a great candidate experience.
3. 6 Steps to Easier Employment Referencing – gives solid, practical advice on how to speed up the referencing process and improve completion rates.
Many of our customers are SME's who are new to employment screening. Embarking on the journey to set up a screening process is a step into the unknown for many employers. Consequently there are many questions around how to get started, how to set-up and manage a process and how certain background checks are conducted and the information they return. From responding to customer queries we recognised 3 key requirements: the responses to some queries can be lengthy; the information needs to be formatted so that it's easy to understand and finally, customers wanted something they can take away and discuss with their colleagues. Infographics tick all the boxes – they display a lot of information succinctly, are much more interesting than a lengthy guide or a bulleted list via email and as they are only 1-page they are easy to share and discuss with colleagues.
These 3 infographics are just the start – we have plans for several more and are also open to ideas too. The infographics are free to download from the resources page on our website and in keeping with our philosophy of keeping things simple we don't ask for any details, just click and download.